All Pictures will display properly when clicked on.
Airboy 120 Gallon, 10 H.P. Air Compressor
Airboy 120 gallon air compressor
Twin cylinder, two stage pump
10 horsepower, three phase motor
Square D motor starter
Made in USA!
$1250.00
 SOLD
Marklift model CH20NEP
Manufactured in the U.S.A. by Mark Industries
20 foot lift height
800 pound lift capacity
8 foot long by 30 inch wide platform with slide out platform extension
4.00 x 8 non-marking tires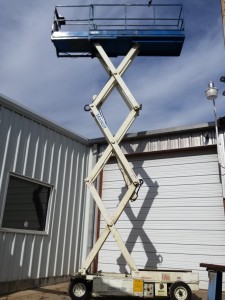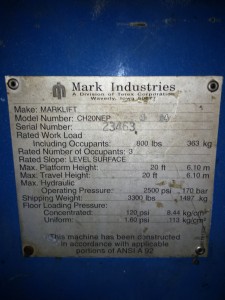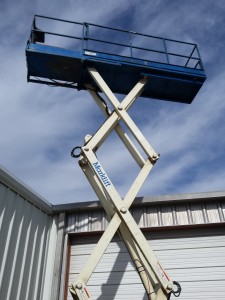 Brand new batteries just installed!
$3,750.00  
SOLD
Local delivery available
We are open Monday-Thursday from 8:30 to 4:30
CLICK ON PICTURES TO SEE IN PROPER ORIENTATION
Nissan 5000lb, 36v Electric Forklift
w/ Fork Spreader
Nissan 5000lb electric forklift, model CYB02L25S
36 volt electric with charger
187″ lift height
Tilt and side shifter
Automatic fork spreader
42″ forks
Grooved tires
Good seat
Headlamps

Battery is strong between charges
Local delivery available
$5250.00
Big Joe Walk Behind Forklift


2000 lb capacity
24v operating voltage
106 inch lift height
Built in 110v battery charger
$1000.00  
SOLD
Local delivery available
Hyster S60XL 6000lb L.P. Forklift
1986 Hyster S60XL forklift.
6000 lb capacity
177″ lift height
Tilt and side shift
48 inch forks
Headlamps
Liquid propane fueled Continental engine
Runs well, ready to work.
Local delivery available
$3650.00
 Sold
Tennsmith 16 Guage Sheet Metal Notcher
Tennsmith model S N, 16 guage sheet metal / corner notcher.
Mounted to mobile stand.
Made in USA
$450.00
Binks 5HP 80 Gallon Two Stage Air Compressor
Binks 80 Gallon horizontal air compressor
Two stage Champion/Gardner – Denver pump
5HP, three phase Dayton motor
Made in USA
975.00